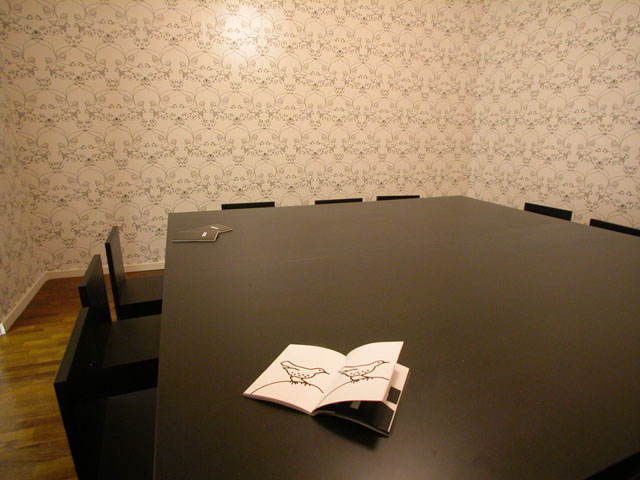 Sala/saal
Installation, "Group Therapy", Museion, Bozen, Italy, september 2006

While walking though Museion's halls, the visitor has the alienating experience of encountering two absolutely identical spaces, each the duplication of the other, and together a faithful mirror of a cultural reality. The déjà vu experience of moving in two successive moments into two perfectly identical spaces amounts to a telling metaphor of the cultural space of South Tyrol: everything is double, from the chandelier, to the table, the chairs and the wall paper. This act of de-constructed and re-constructed meaning is completed by the publication of a book with a half-Italian, half-German cover: its content consists entirely of images and drawings of these two doubled spaces.
All'interno delle sale di Museion lo spettatore vive l'esperienza straniante della duplicazione di un ambiente assolutamente identico, ma che in fondo consiste in uno specchio fedele di una situazione tangibile e reale. Nel percorso museale il visitatore si imbatte in due momenti successivi in due ambienti perfettamente uguali vivendo un déjà vu che corrisponde ad una metafora calzante dello spazio culturale altoatesino: tutto è doppio, dal lampadario al tavolo, fino alle sedie e alla tappezzeria. Completa questa de-costruzione e ricostruzione di senso l'edizione di un libro con copertine a metà italiane e a metà tedesche contenente esclusivamente immagini e disegni dell'ambiente sdoppiato.