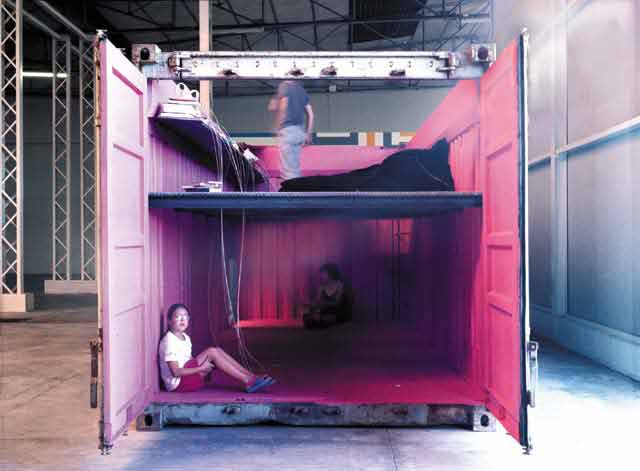 Temporary Library 01
Exhibition "Strategies Against Architecture II", Fondazione Teseco, Pisa 2001
An industrial container is customized to contain a transportable library. The roof is removed, the interior is painted pink. A new raised level, built out of steel I-beams and metal grating is inserted inside the container and becomes accessible through a steel staircase. The library becomes a point of observation of the surroundings. Books and material concerning the artists and topics of the exhibitions in which the container is inserted are available to the public thus defining a space of rest and meditation.
Il progetto lavora su due piani distinti: la realizzazione di un oggetto e uno spazio fruibile all'interno della mostra e la costruzione di un confronto indiretto con gli altri partecipanti all'esposizione. L'intervento prevede l'allestimento di due spazi: uno esterno costituito da un container riadattato e trasformato in biblioteca temporanea in cui sono mostrati i differenti testi che gli artisti presenti in mostra hanno segnalato come significativi del proprio percorso di ricerca, l'altro,negli spazi interni della fondazione, destinato a diventare uno spazio di lettura e consultazione dei libri scelti.
photo: Alessandro Cimmino